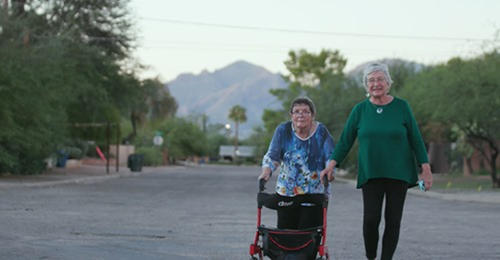 HOME-SHARING: SAVING MONEY AND CREATING FRIENDSHIPS
Speakers: Sharon Kha and Deborah Knox
June 16, 2021
4:30 - 6:00PM (AZ time) 
When Sharon Kha realized she could no longer live alone but didn't want to move out of her home, she went looking for a creative solution. That's when she connected with Deborah Knox, who was also looking for a new living situation. Join us as Sharon and Deborah talk about their experience with home-sharing: a way to age in place safely. Come to learn more about "boommates" to decide if it is a good option for you or come to just hear a heartwarming story about finding friendship.
Home Sharing
Most of us have had thoughts about retiring somewhere that are bathed in a rosy glow and everyone gets along and everyone is just peachy as we sit on our front porch and rock back and forth and talk.
It comes as a shock when we discover the reality that we are living in a cramped apartment where we keep the security bolt locked, and rarely leave your apartment, and it has been weeks since we had a conversation. Or you realize we are only using two or three of the rooms in our current home and seldom does anyone drop by. We are afraid and lonely. How did the reality of our fantasy retirement get so far from our dream?
President Joe Biden recently spoke to the issue of loneliness. He described loneliness as an epidemic that has been made worse as a result of the enforced isolation brought on by COVID.
Are there certain times of the day or the year, or certain situations that make you feel lonely? What does loneliness feel like to you?
When Biden called for Americans to find ways to reconnect with one another, he probably had never heard of Shared Housing, but it is an idea whose time has come.  Quite simply, it is a matching service. Shared Housing is a living arrangement in which two adults make a decision to live together in a mutually beneficial way based on similar values, interests and tastes. If you had to move out of your home because you couldn't afford the mortgage payments, or could no longer manage the property, shared housing may be for you. If you are lonely, shared housing may be for you. There are more than 50 Shared housing programs in the country, and on June 22, the Pima County Board of Supervisors will vote on a proposal to fund Pima Council on Aging to establish a pilot program here. There is a lot of excitement around the idea. Sharon's concern as a Parky way before a program existed, was finding a housemate because she felt like an unlikely match.
When I was diagnosed with Parkinson's in 2004, all my plans changed. I was convinced that no one would want to live with progressive disease. Who would want to share a home with a Parky?
It turns out that Shared Housing is an exceptionally flexible tool for improving one's quality of life. If I had known then what I know now about aging in place, I would have taken the news that I had Parkinson's Disease with much more equanimity. It's been five years now since I first began sharing my home with Deb Knox and my life is everything I could have wished for when I was creating fantasies of my retirement.
The thing that makes sharing housing so distinct is the notion that sharing a house with someone can be of mutual benefit. It can make it possible for people to stay in their own homes longer. It can be financially beneficial. In our case, sharing a house saved Deb the amount of her mortgage payment, and it saved me money because the alternative would have been to pay someone to be in my house overnight because I'm afraid of falling. The most important benefit is that it can provide companionship. In fact, it is so remarkable that the Pew Charitable Trust came to Tucson and did a video that describes the benefits far better than we could, so I'll let it speak for itself.
There is quite a story behind this video. We got an email one day in August 2019, asking if we could do an interview about the housing arrangement we had. The story was part of Pew's coverage of future trends called "Living Facts." They showed up on our porch one morning at nine with a crew of four: a reporter, a sound man, a photographer, and a producer, and they shot video from 9:00 am to 7:00 pm.
Why would a big, fancy organization like the Pew Charitable Trust be interested in what two old ladies in Tucson are doing? And that's not all, there's more. The AARP did a story for its online version and another for their print copy with us on the cover, and The Wall Street Journal quoted us briefly. Here in Tucson, all three television stations did stories, and the Arizona Daily Star printed a story with a headline you could read a block away.
Can you give me the phone number of the genius who did the brilliant marketing plan? The truth is that there was no genius and there wasn't a plan. All we did was answer the phone when the media called. This is a truly homegrown grassroots movement.
When Sharon and I started talking about home sharing in the community to groups of elders we were encouraged to create Tucson Home Sharing, Inc, a non-profit to promote this alternative. Simon Strange heard me present at an Affordable Housing Program in 2018 and was the first to join forces with us. He knew of many elders living alone in their big houses in his neighborhood and thought this was the solution for their loneliness.
Lucy Read had started a support program for people living in the foothills who needed transportation to doctors' offices and shopping. She was quick to jump on board. Throughout the pandemic, several of us have met regularly to spread the word and the media continues to support us. It speaks to the issues that confront the elder population in Tucson and America—the need to find affordable housing and acknowledging that we are lonely. For people with a progressive disease, such as Parkinson's, the benefits of having another person in your home may allow you to stay in your home longer.
Shared Housing is not a new idea. Hundreds of years ago, it was quite common for a family to take in their granny or eccentric uncle or a teenage girl who would help out with the children. It is only recently that Americans adopted the one-family one-house model. As we grew older, we found that the home that had served us so well when it was filled with children was too big for the widow or widower who was rattling around the house that was too much work for one person to manage. But when you came right down to it, they were just plain scared: scared of losing their privacy, scared of making the wrong choice, scared of revealing so much of themselves to a stranger.
As elders, we wanted to keep the same level of privacy that we had been used to—a bedroom for each kid, a den, a spacious kitchen where we used to prepare a feast on holidays, and a spare room. But as the years passed, we found that we didn't need to prepare feasts because our kids had moved across the country and little by little we found that we didn't need the spare room and in fact just taking care of the house was a burden. And, one day we realized that we were only moving from watching TV in the den to the kitchen, to heating something up in the microwave and that it had been days since we had a conversation with anyone, and we recognized that we were lonely.
For people with Parkinson's the future is an ever-changing mosaic and if you are even faintly interested in home-sharing, investigating it now rather than later is wise. Even if you think you are a long time away from home-sharing, the process of finding a good match may take a while because you are building a relationship, not signing a lease.
When I started my search for someone to share my house, I was pretty skeptical that anyone would want to live with someone with advanced Parkinson's. But I shrugged my worries off. I have Parkinson's and I can't change that, so I need to get that information out from the start and be as honest as I can and see what happens.
When I first learned of the opportunity for home-sharing it was through the connection of two of our mutual friends. Sharon had been putting the word out to her church, her friends, and family and I had expressed my interest in shifting my work into serving elders. I was involved in end-of-life planning programs here in Tucson and was concerned about the lack of support services for people to age in place. I also wanted to get out of the mortgage I had that was costing me more than I wanted to spend. Our close friend Mert overhead Sharon and said "I might know someone who is interested."  Now I had explored caregiving as an opportunity but decided it wasn't right for me. But what I heard from Mert was interesting so when she called me I said sure, I'd love to talk with someone who is interested in sharing a home as an alternative to assisted living. And yes, she had Parkinsons, but she managed it very well, according to Mert. I called Sharon that night and we followed every conversation by setting up another one.  Sharon even joined one of my writing groups to check out my living situation and make sure I wasn't a hoarder. The next step for me was to come to her home and see how it felt and how would it work. I left that day with the question she poised "what are you really looking for?" I said "intimacy" and she gulped and said "Intimacy? What do you mean by that?" And I said, "its being on the inside looking out, not on the outside looking in." As a single woman, never married, no kids, being on the inside meant that there was some kind of meaningful relationship going on there. So when we were settled in our minds we made the move.
It has been five years since the day Deb parked her car in my driveway on Aug 17, 2016, and our friendship has grown richer and deeper. On the 17th of every month, we get dressed up and go out for dinner and talk about how the relationship is going. I highly recommend making that one of the first traditions you establish in your new shared housing arrangement. We have had many married couples say they wish they had established something like this, so consider it strongly.
The key to our success, I believe is that we were both very clear about what each of us MUST have from the relationship—in order for it to succeed. I was clear that I MUST HAVE someone to cook dinner—as far as I was concerned everything else was up for grabs. So when the discussion about whose coffee table got the place of honor, I didn't dither around about it.
Deb was equally clear that she wanted more financial freedom, and by getting rid of her mortgage payment she actually increased her cash flow at no out-of-pocket expense to me. And I got dinner every night without the expense of hiring someone to cook it and serve it. It was truly a win-win situation.
Sharon's Parkinson's has increased over the past 5 years and so have some of my responsibilities. She still has a caregiver 4 hours a day 6 days a week, to help with doctors' appointments, dressing, some household chores, etc. Sharing a home with Sharon has made me more aware of the needs we all have as we age, and we are honestly able to be mutually supportive of one another. I can whine about my aches and pains and she's a sympathetic and helpful listener.
And we were equally clear about what kind of relationship we wanted. It was not a landlord-tenant relationship which is limited to a single financial transaction once a month and signing a lease. Nor is it a romantic relationship.
Both the affordability factor and the loneliness factor are keys to why home-sharing is trending. The intimacy that I longed for was undefinable at the time, but it means more now than ever before. Sharing a home is a private relationship that requires respect and mutual responsibility. Intimacy changes over time as you become more of who you are and therefore how you influence the ones you live with.  Home is a special private place and it's wonderful to share it with another.
ARE YOU READY????
The first thing to do to get ready to embark on a shared housing agreement is to think about what you have to offer. Let's start with the easy things. If you are a homeowner who wants to find a person to share your home with, you want to first consider how to allocate the space. Do you have two bathrooms so that each one of you can have a private one? Having a private bedroom is on everyone's MUST HAVE list.
How will you share the kitchen? How will you handle food purchasing and preparation?  Will the living room be a shared space? Where will he/she park?
Then consider what you need from the relationship? Is it money? If so determine the value of the space and your requirements taking into consideration local market value.  Or do you need an exchange of services, such as cooking meals, gardening, light cleaning? The point is to get clear on your wants and MUST-HAVES or those things you can't have, such as a dog or smoking.
Must haves are those items that are so important to you that if you didn't have them the deal would be off.
For example, suppose that "drive me to my doctors' appointments" is on your list and your potential partner doesn't have a driver's license, that could be a deal-breaker. But you could get creative and consider whether Uber or Lyft would work for transportation.
If you are a home seeker, you will want to consider what you have to offer that would be of equal value to the space that is being offered by the homeowner. You might list things like providing 15 hours a week doing handyman chores around the house, driving homeowner to doctor's appointments, and provide 3 hours a week in computer troubleshooting, or cooking dinner six nights a week.
Now is the interesting part. It's fairly easy to match the basics like "homeowner A needs a cook and home seeker B likes to cook." The part that makes a match, however, is all those little things that irritate you that make the relationship fail—things like, what kind of music do you like? If it turns out that you like loud rap music all day and all night, and the other person prefers classical music, you are unlikely to have a successful match.  Or your idea of kitchen cleanliness is washing each cup when you've used it and your potential partner washes up whenever there are no more clean cups on the shelf —not a good match. If you are interested in compatibility testing, we strongly recommend resources developed by Annamarie Pluhar over the last 10 years.
Annmarie Pluhar is the founder of Sharing Housing, Inc. She has a book, Sharing Housing: A Guidebook for Finding and Keeping Good Housemates, compatibility surveys, a website, www.sharinnghousing.com, and an online course an agency can purchase.
While you have been sitting here listening to this, have you been thinking, "I wish my Aunt Bessie could hear this—she's so lonely. But I don't know how she'd ever find someone to be a good housemate." But there are things like background checks that would bring her peace of mind. And do you need a written agreement or a lawyer?  And before you know it, what was a good idea becomes overwhelming. A formal Home Sharing program will take a lot of that worry away.
And we have news for you.
On Tuesday, June 22, the Pima County Board of Supervisors voted to fund a $100,000 Pilot Program to PCOA in Tucson. Such a Home Sharing Program will provide information for homeowners and seekers, to assess their interests and values. It will ensure safety measures and conduct background checks when matches are finally made. The program uses software to assess interests and preferences and trained professionals will help make a good match.
If you would like to support this program you can do that in the following way. Write a simple letter to the Pima County Board of Supervisors and email it to cob_mail@pima.gov and write Home Share Pilot in the Subject line. Possible tips for you to use are below. Pick a point or two or create your own reason for supporting this venture.
Home Sharing is a badly needed affordable housing choice in Tucson
Home Sharing addresses the issue of loneliness in a natural, supportive manner
Home Sharing addresses the needs of both homeowners and home seekers
Meanwhile, we encourage you to think about this alternative. Contact us through the gym or our FB page, and by all means, please talk with family members who may agree this is more than a viable option. For peace of mind, for yours and theirs, for safety, for creating a peachy future for yourself.
Sharon Kha
Deb Knox
PWR! Wellness Series Elton Bordenave, PhD, MEd August 16th, 2023 4:30-6:00 pm People with Parkinson disease may heavily rely on their caregivers for support and assistance, making them an indispensable part of their lives. But caring for someone can be a challenging task. In light of this, Dr. Elton Bordenave will delve into the research…
Read More
PWR! Wellness Series Speaker: Sarah Rice, PTA July 19, 2023 4:30-6:00 pm Falls are common in people with Parkinson disease and can cause serious injuries, including fractures and concussions. Studies show falls are the main cause of hospitalizations in Parkinson's patients. Tai chi is known to decrease falls and subsequent hospitalizations as well as increase…
Read More