How posture affects walking
Hey everyone, it's Calli from the PWR!Gym. I want to talk about how our posture can affect our walking. So, we want to have really good posture to help us be able to take those bigger steps, get a better heel to toe contact with the floor and to avoid that shuffling or where you kind of land with your foot flat. So, I'm going to go ahead and demo walking with bad posture and then walking with good posture so you can see the difference. All right, so when I am forward here and a little hunched over it is hard for me to pick my feet up and take those big steps because I have weight forward more on the front of my feet. However, if I can PWR! Up before I walk with really nice posture it's easier for me to take bigger steps and get that heel down first. So, anytime you are about to do some walking I really recommend go ahead and PWR! Up especially if you can find a wall to use. Find your best posture think about squeezing all those muscles in the back of your body to stand up nice and straight think about looking up at something maybe like where the wall meets the ceiling as a contact for your eyes to help you keep those eyes up and that head up so we avoid that forward lean so we can walk with bigger and better steps.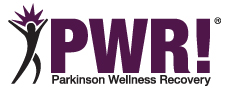 Our goal is to make sure you're always empowered and informed.
We offer handouts, downloads, research updates, Wellness Series talks, retreats with knowledgeable speakers, in-person and virtual wellness consultations, and in-person physical therapy visits. We are here for our PWR! Members every step of the way.
We're excited to have you join us!
Our Guided Plans include calendars, PWR!Moves fundamentals, tools, research, and are packed full of videos you can apply to the topic. Join our membership and get started with a guided plan.
Calli Hutchison, DPT
Parkinson Disease Exercise Specialist
Calli first discovered her passion for working with people with Parkinson disease in 2014, as an undergrad working on a PD research study.  A few years later, she first joined the PWR! family as a physical therapy student on a clinical rotation. Calli found working at the PWR!Gym so deeply rewarding that, after graduation, she accepted a position as one of our full-time physical therapists, and she, her husband, and their three cats, Nugget, Peanut, and Khaleesi, moved to Tucson. In addition to treating clients, Calli organizes our Wellness Series and social events.
Calli offers physical therapy to clients in Arizona and wellness consultations to those outside of Arizona.
Outside the gym, Calli loves to travel—she's been to four continents and she and her husband, Taylor, visit craft breweries everywhere they travel to.