Your First PWR! Virtual Experience Wellness Consultation
We're looking forward to seeing you!
What's my first appointment for? 
Your first visit with PWR! will be an initial consultation.  You'll get to know your PWR! PD exercise specialist, be introduced to PWR! and our unique PD-specific programming, including the PWR! Virtual Experience, and work with your PD exercise specialist to determine your fitness level and exercise goals.  Our aim is to find out what you'd like to learn so we can help you get the most out of your exercise program.
What will happen during my wellness consultation?
During your appointment, you'll meet your PD exercise specialist and spend about 15 minutes discussing your health history, goals, and other concerns. Your partner or care partner may also be part of this discussion. Afterward, your PD exercise specialist will lead you through a series of screening questions and assessments, which will help them match you to your ideal exercise class, learn more about your fitness level, and help you set goals for how to improve your overall fitness while living with Parkinson disease. Your PD exercise specialist will also determine whether you may benefit from medical or other support from providers near you (such as physical or occupational therapy, medical care, social work support, etc.).
What should I wear?
Comfortable clothing to move in
Closed-toe exercise or walking shoes
What should I have nearby?
Water bottle
A sturdy chair, preferably without arms, or something else that's sturdy enough to hold onto for balance
Yoga mat (if you have one)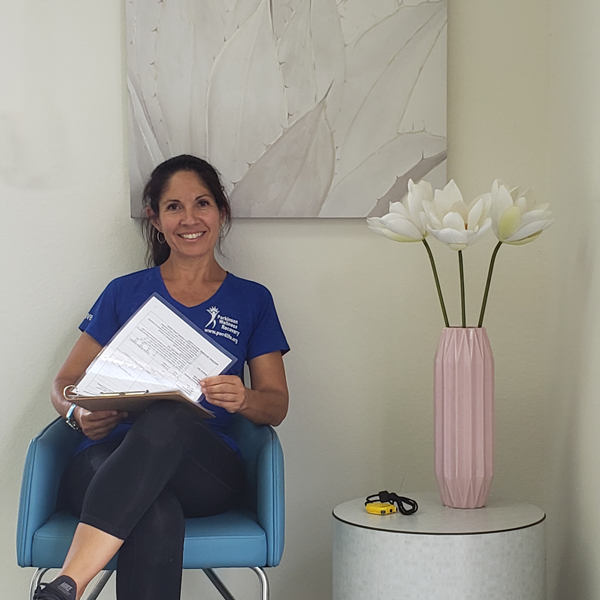 How do I get ready for a consultation via Zoom? 
Please plan to have your computer, phone, or tablet ready at least 15 minutes before your scheduled appointment time. If you would like additional information on how to use Zoom, you can watch a tutorial by clicking here.
FAQs 
When I sign up for a wellness consultation, am I receiving physical therapy? What is the difference between a wellness-based exercise consultation and physical therapy?
It is important to note that the wellness consultations we offer are not physical therapy, even if your PD exercise specialist also happens to be a licensed physical therapist.
Our staff of exercise specialists does include physical therapists, along with certified personal trainers and certified group fitness instructors. All of our PD exercise specialists are also PWR!Moves Certified Professionals, which means that they have additional training and expertise specifically in helping people with PD move better and feel better safely. Although you may receive exercise support from a physical therapist, you are receiving exercise training, not skilled physical therapy.
Our wellness visits are designed to help people increase and maintain physical fitness and wellbeing, and all wellness clients will receive a basic health screening along with recommendations from your PD exercise specialist for targeted exercises to help you improve your flexibility, strength, cardiovascular fitness, and also how to stick with your new exercise program. If, during your health screening, we discover that you may need additional help monitoring more complex medical conditions, and that you might benefit from the guidance of a licensed physical therapist in your state, we may make that recommendation as well.
How much does a wellness consultation cost? 
Initial wellness consultations are $125. Any additional follow-up sessions will cost $100 each. Both initial consultations and follow-up sessions are 60 minutes long, unless otherwise noted.
Does my health insurance cover the cost of my Membership or wellness-based one-on-one exercise sessions? 
The wellness services that we provide at PWR! are meant to promote general fitness and health in people with Parkinson disease. Our wellness services are not medical visits, which means that health insurances do not cover the cost of a PWR! Virtual Experience Membership or the cost of wellness services.
Do you have other questions? 
Please complete our Help Form, and our administrative staff will happily respond in 2-3 business days. Form Link.