Use the PWR!Moves to walk!
Join Jennifer from the PWR!Gym as she shows you to how to use the PWR!Moves to walk big and strong.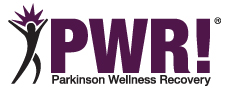 Our goal is to make sure you're always empowered and informed.
We offer handouts, downloads, research updates, Wellness Series talks, retreats with knowledgeable speakers, in-person and virtual wellness consultations, and in-person physical therapy visits. We are here for our PWR! Members every step of the way.
We're excited to have you join us!

Jennifer Bazan-Wigle, DPT, CEEAA®
Parkinson Disease Exercise Specialist
About the Author
Jennifer Bazan-Wigle has worked in neurological rehabilitation for the entirety of her physical therapy career and has focused on people with Parkinson disease since 2013.  She specializes in one-on-one rehabilitation, specifically for those with freezing of gait and advanced PD, and group exercise instruction.  Jennifer is a senior member of our professional education faculty and, in addition to delivering countless presentations on PD, has delivered over 70 training workshops across the US and world.  In doing so, Jennifer has helped thousands of physical therapists, occupational therapists, and fitness professionals implement evidence-based rehabilitation and group exercise for people with Parkinson disease.
Jenn loves exercising and teaching exercise therapy classes (and even owns more workout clothes than regular clothes!).  Jenn teaches all kinds of classes, but you'll see her most frequently in our cardio and circuit classes.
Jenn offers physical therapy to clients in Arizona and California and wellness consultations to those outside of Arizona and California. 
Outside the gym, Jenn and her chocolate lab, Ripp, go hiking every morning, and in the summer months, Ripp adorably finishes up by taking a flying leap into the pool.  Jenn also loves music and dancing, cooking, and traveling—two of her favorite trips ever were spent diving in Palau and exploring shrines in Nikko, Japan.