Moving from your stomach to all 4s using the PWR!Moves
Getting off the floor is tough. Calli shows you how to use your PWR!Moves to get up off of the floor.
Calli shows us how we can use the PWR!Rock and PWR!Step to help us transition from our stomachs to all fours. We will start in our PWR!Up on our stomach and shift our weight side to side as we PWR!Rock. This rocking allows us to PWR!Step our knee and hand towards each other. Let's do 10 of these together.
Slide the knee up as high as you can towards the wrist during that PWR!Rock. Once we have one knee up, we can PWR!Rock towards that side so we can PWR!Step our other knee up to come to all fours.
Let's come down to our stomach and try that again. Rock and step one side, before rocking and stepping the other side up.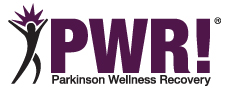 Our goal is to make sure you're always empowered and informed.
We offer handouts, downloads, research updates, Wellness Series talks, retreats with knowledgeable speakers, in-person and virtual wellness consultations, and in-person physical therapy visits. We are here for our PWR! Members every step of the way.
We're excited to have you join us!
Calli Hutchison, DPT
Parkinson Disease Exercise Specialist
Calli first discovered her passion for working with people with Parkinson disease in 2014, as an undergrad working on a PD research study.  A few years later, she first joined the PWR! family as a physical therapy student on a clinical rotation. Calli found working at the PWR!Gym so deeply rewarding that, after graduation, she accepted a position as one of our full-time physical therapists, and she, her husband, and their three cats, Nugget, Peanut, and Khaleesi, moved to Tucson. In addition to treating clients, Calli organizes our Wellness Series and social events.
Calli offers physical therapy to clients in Arizona and wellness consultations to those outside of Arizona.
Outside the gym, Calli loves to travel—she's been to four continents and she and her husband, Taylor, visit craft breweries everywhere they travel to.