Live Class Calendar
Please note: All class times are given in Arizona Time.
Gold and Platinum Members--click on your live class below for ALL your Zoom links.
All Access Members. -- All the links below are available to you.
Remember to check your class time. Arizona does not participate in daylight savings time.
A reminder that the PWR!Gym will be closed for the Martin Luther King holiday, January 18th, 2023
A reminder starting May 2nd. There are class time changes for Circuit and Boxing.
The Virtual Boxing class is moving from Tuesday/Thursday at 1:30 pm to Tuesday/Thursday morning at 8 am (Arizona time).
The Virtual Circuit class is moving from Wednesdays at 2 pm to Thursdays at 2 pm (Arizona time).
More PWR! Tools to Help You!
Don't miss out on these events!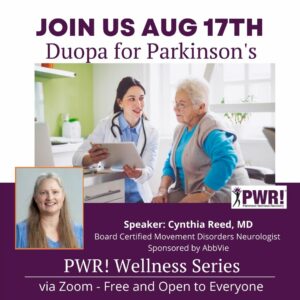 Duopa for Parkinson's August 17th, 2022 4:30 – 6:00PM (AZ time) Duopa is a prescription medication indicated for the treatment of motor fluctuations in patients with Parkinson's disease. It delivers carbidopa/levodopa continuously throughout the day. Hear from Cynthia Reed, MD to learn more and how Duopa can help you on your journey. You will also…
Read More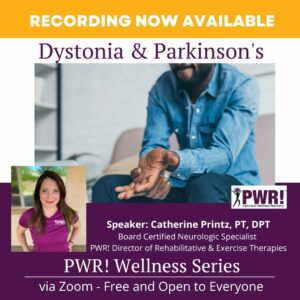 Ask the Expert – Dystonia and Parkinson July 20th, 2022 4:30 – 6:00PM (AZ time) What is dystonia? Do I have it? How do I treat it? Will I get it? Is dystonia the same thing as dyskinesia or tremor? You may have a lot of questions about dystonia – a repetitive muscle twisting, spasm,…
Read More
Want to get even more out of your exercise?
Contact the PWR!Gym to schedule a one-on-one consultation with our PD exercise specialists, who will work with you to create a plan tailored to your individual goals and needs!