Live Class Calendar
Please note: All class times are given in Arizona Time.
Gold and Platinum Members--click on your live class below for ALL your Zoom links.
All Access Members. -- All the links below are available to you.
Remember to check your class time. Arizona does not participate in daylight savings time.
A reminder that the PWR!Gym will be closed for the Martin Luther King holiday, January 18th, 2023
A reminder starting May 2nd. There are class time changes for Circuit and Boxing.
The Virtual Boxing class is moving from Tuesday/Thursday at 1:30 pm to Tuesday/Thursday morning at 8 am (Arizona time).
The Virtual Circuit class is moving from Wednesdays at 2 pm to Thursdays at 2 pm (Arizona time).
More PWR! Tools to Help You!
Don't miss out on these events!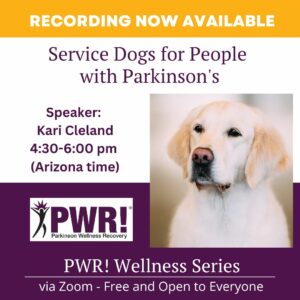 Service Dogs for People with Parkinson's Service dogs can be trained to help people with Parkinson's disease with a variety of tasks such as getting dressed, opening doors, or alleviating freezing. Studies show that service dogs can also encourage regular exercise and reduce loneliness. Kari Cleland, who has been training dogs for over 40 years,…
Read More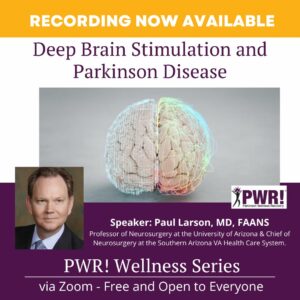 Deep Brain Stimulation and Parkinson's Disease PWR! Wellness Series Speaker: Paul Larson, MD, FAANS September 21, 2022 4:30 – 6:00PM (AZ time) Deep brain stimulation (DBS) is a surgical treatment where small wires are placed in the brain to reduce motor symptoms such as tremor, slowness, and stiffness. DBS is currently the gold standard surgical…
Read More
Want to get even more out of your exercise?
Contact the PWR!Gym to schedule a one-on-one consultation with our PD exercise specialists, who will work with you to create a plan tailored to your individual goals and needs!