Live Class Calendar
Please note: All class times are given in Arizona Time.
Gold and Platinum Members--click on your live class below for ALL your Zoom links.
All Access Members. -- All the links below are available to you.
Remember to check your class time. Arizona does not participate in daylight savings time.
A reminder that the PWR!Gym will be closed for the Martin Luther King holiday, January 18th, 2023
A reminder starting May 2nd. There are class time changes for Circuit and Boxing.
The Virtual Boxing class is moving from Tuesday/Thursday at 1:30 pm to Tuesday/Thursday morning at 8 am (Arizona time).
The Virtual Circuit class is moving from Wednesdays at 2 pm to Thursdays at 2 pm (Arizona time).
More PWR! Tools to Help You!
Don't miss out on these events!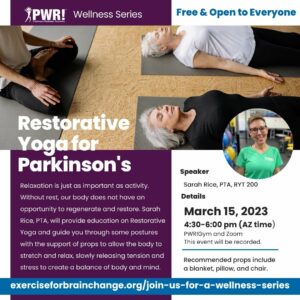 Restorative Yoga for Parkinson's PWR! Wellness Series Speaker: Sarah Rice, PTA, RYT 200 March 15, 2023 4:30 – 6:00PM (AZ time) Relaxation is just as important as activity. Without rest, our body does not have an opportunity to regenerate and restore. Restorative Yoga provides healing for the body and mind. Sarah Rice, PTA, will provide…
Read More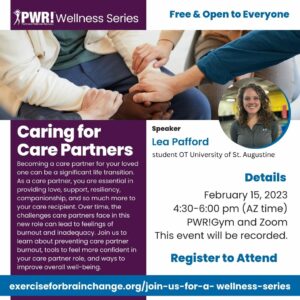 Caring for Care Partners PWR! Wellness Series February 15, 20234:30-6:00 pm (AZ time)PWR!Gym and ZoomThis event will be recorded Join us! Register to Attend About The Webinar Becoming a care partner for your loved one can be a significant life transition. As a care partner, you are essential in providing love, support, resiliency, companionship, and…
Read More
Want to get even more out of your exercise?
Contact the PWR!Gym to schedule a one-on-one consultation with our PD exercise specialists, who will work with you to create a plan tailored to your individual goals and needs!