Hands and Parkinsons - the Research
Do you avoid writing letters, opening jars, and wearing clothing with buttons because it has become more difficult? We use our hands all day to help us with activities like getting dressed, eating, and even communicating with others whether it be mailing a card or sending a text message. You might be doing exercises to improve your leg strength and your endurance, but are you doing any exercises to improve your hand strength, flexibility, and coordination? Read ahead as Calli Hutchison, PT, DPT shares how our hands can be affected by Parkinson's disease and what the research suggests can be done to improve hand strength, coordination, and flexibility.
Many people with Parkinson's have a tremor that can make daily activities such as handwriting, eating, and dressing more challenging1. But even those without a tremor can have a harder time using their hands because of bradykinesia and rigidity making hand movement slower and smaller1-4. You may also notice muscle weakness and decreased dexterity in your hands1,4. Unfortunately, research suggests medication and deep brain stimulation do little to improve hand dexterity2-5. The good news is just like we can exercise to improve our walking and balance, research indicates we can exercise to improve our hand strength and coordination too1,2,5! 
When exercising your hands, apply the same principles that you would in other Parkinson specific exercises including making the hands as big as possible, fast movements, or adding dual tasking for an increased challenge4. Also remember the importance of specificity, meaning if you want to improve your handwriting, practice handwriting or if you want to improve your ability to pick up small objects, practice picking up small objects3,5.
Research has shown that even one 15-minute exercise session can increase hand strength and dexterity short term suggesting that you can use hand exercises prior to activities to help prepare and activate the muscles needed for improved performance of a task1. Use of visual targets can also improve your performance such as writing on lined paper to increase letter size and legibility2. 
Hand and finger flicks
Holding a scarf as you write big letters in the air
Writing on lined paper with each letter taking up 3+ lines
To Improve
Opening jars or doors
Squeezing a stress ball
Wringing out a towel
Holding a weight as you move your wrist in different directions
To Improve
Picking up small objects
Pinch putty between thumb and fingers on both hands and pull apart
String beads together
Pick up different sized coins
To Improve
Buttoning a shirt
Cut a slit in a piece of felt and push coin or button through slit
Thread nuts on a bolt
Pull apart small pieces of putty
Hand exercises are some of the easiest to fit into your schedule. They can be performed while riding in the car, waiting for an appointment, or watching tv. Just like with other exercises, do these regularly to maintain and improve fine motor skills needed for your everyday activities like dressing, eating, and writing2,4. Learn more about what exercises you can do to improve your hand movement in our new guided plan all about hands!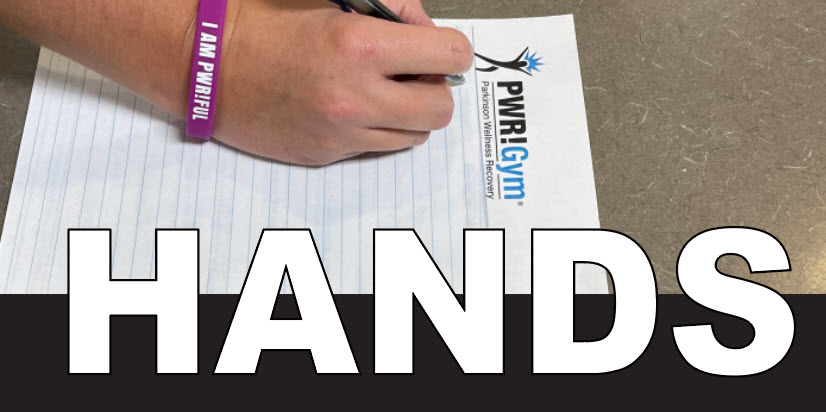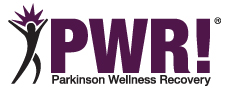 Our goal is to make sure you're always empowered and informed.
We offer handouts, downloads, research updates, Wellness Series talks, retreats with knowledgeable speakers, in-person and virtual wellness consultations, and in-person physical therapy visits. We are here for our PWR! Members every step of the way.
We're excited to have you join us!

Mateos-Toset S, Cabrera-Martos I, Torres-Sánchez I, Ortiz-Rubio A, González-Jiménez E, Valenza MC. Effects of a Single Hand-Exercise Session on Manual Dexterity and Strength in Persons with Parkinson Disease: A Randomized Controlled Trial. PM R. 2016;8(2):115-122.
Collett J, Franssen M, Winward C, et al. A long-term self-managed handwriting intervention for people with Parkinson's disease: results from the control group of a phase II randomized controlled trial. Clin Rehabil. 2017;31(12):1636-1645.
Nackaerts E, Broeder S, Pereira MP, et al. Handwriting training in Parkinson's disease: A trade-off between size, speed and fluency. PLoS One. 2017;12(12):1-14.
Vanbellingen T, Nyffeler T, Nigg J, et al. Home based training for dexterity in Parkinson's disease: A randomized controlled trial. Park Relat Disord. 2017;41:92-98.
Allen NE, Song J, Paul SS, et al. An interactive videogame for arm and hand exercise in people with Parkinson's disease: A randomized controlled trial. Parkinsonism Relat Disord. 2017;41:66-72.
Calli Hutchison, DPT
Parkinson Disease Exercise Specialist
Calli first discovered her passion for working with people with Parkinson disease in 2014, as an undergrad working on a PD research study.  A few years later, she first joined the PWR! family as a physical therapy student on a clinical rotation. Calli found working at the PWR!Gym so deeply rewarding that, after graduation, she accepted a position as one of our full-time physical therapists, and she, her husband, and their three cats, Nugget, Peanut, and Khaleesi, moved to Tucson. In addition to treating clients, Calli organizes our Wellness Series and social events.
Calli offers physical therapy to clients in Arizona and wellness consultations to those outside of Arizona.
Outside the gym, Calli loves to travel—she's been to four continents and she and her husband, Taylor, visit craft breweries everywhere they travel to.