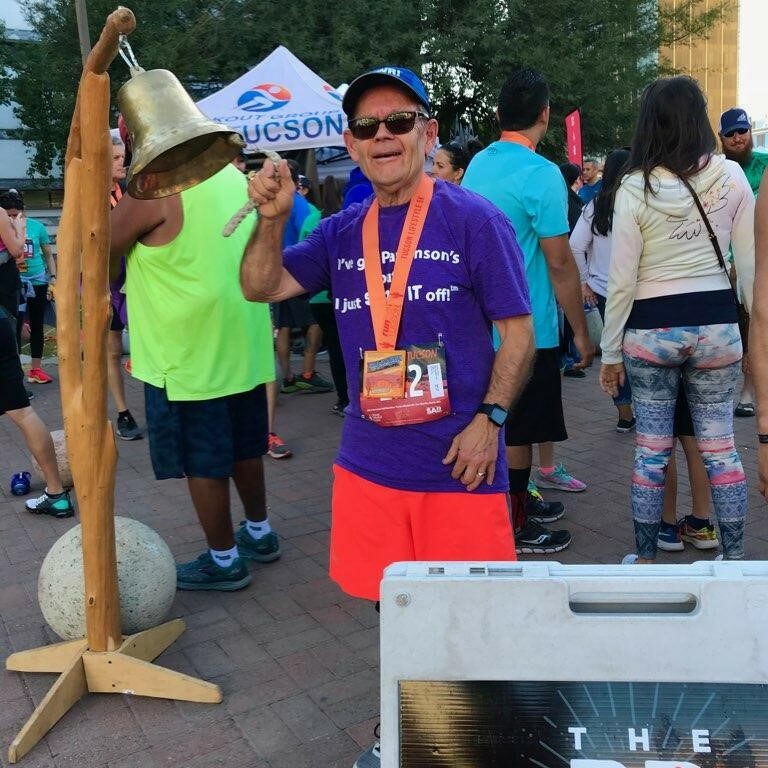 There is a magical place that is transformative and supportive. That is PWR!, a facility geared solely to helping those with Parkinson's and other neurological issues. PWR! transforms caregivers into "care partners." It transforms those with severe to mild symptoms into better functioning people. The incredibly knowledgeable, caring, and supportive team of physical therapists, exercise therapists, and administrative professionals challenge those with Parkinson's to be better and do more. This is done with their kindness and talent through one on one therapy designed just for that person and appropriate group exercise classes.
Magic truly happens there!
I am one of the recipients of their support and programs. Through their work with me, after 5 years post-diagnosis, I still don't take medications and have run nine 5K official runs here in Tucson. They have truly enhanced my quality of life and at age 72, allowed me to continue working full time.
Due to an incredible increase in need within the Tucson community, PWR! needed to expand its services. To do that, they needed more space and so have moved into a new facility almost 2.5 times as big as the former location. To continue to advance the programs and to expand even more PWR! services, we need your help. We are launching a drive to raise money, but also to expand awareness of our services to the neurological community. Investing in PWR! is critical for the organization to treat and help more Parkinson's patients and their care partners.
May we count on your generous donation to PWR?
With sincere gratitude,
Thom K. Cope
Person with Parkinson's and PWR! Board Member
Posted in 2021
"I hate running. I mean seriously at 5'2'' tall I have to take a thousand more steps to cover the same ground as others! But I completed my first 5K with the support of my PT at PWR." - Thom Cope
And Then My legs Stopped Working…..
My Parkinson's Journey (so far)
I was walking along just fine, keeping up with no problem. And then my legs stopped working. My shuffle was so good; it would have made a penguin proud. I actually came to a dead stop……….
August, 2015, at age 67 the brain scan confirmed I had Parkinson's Disease. Not a great surprise, since my left thumb had twitched for about a year and I had been also told it could be essential tremors. Lots of people have essential tremors, but mine got progressively worse where my left hand shook more and more. I kept my left hand in my pocket to hide the tremors.
I didn't know anything about P.D. except that my legal assistant's mother in Lincoln, Nebraska and Michael J. Fox had it. But I intuitively "knew" that exercise and proper nutrition would be a good place to start. So I joined a "boot camp" workout group, hired a nutrition coach and dropped from 146 lbs. to 122 lbs. At 5'2" (I was 6' tall before I started practicing law in 1972!) I figured a drop in lbs. couldn't hurt. I was determined that Parkinson's was not going to define me. And it still doesn't.
But for months I agonized over telling my law partners. Also do I tell my clients? I worried about it. Then my wonderful wife and care partner, Melba and I discussed it and in December 2015 I told our managing partner, who reaffirmed my status as a contributing and valuable member of the firm. The entire law firm has been incredibly supportive, for which I am grateful.
Slowly I let a select group of clients in on my "secret." Their collective response: "So what? You are our attorney and we are with you." So now I simply tell people I have P.D. and don't be distracted by it, because I won't be.
I continue to exercise and became stronger physically and mentally and have eschewed all medication in favor of exercise and proper nutrition. Now I have a personal trainer, Coach Grit (aka Helen) with whom I work on strength and nutrition. I have a few minor issues: at times my left hand shakes, my left arm doesn't swing naturally, and my gait can be stiff. But hey, I'm still doing great, and I don't want the side effects of medicine to change that. I figure if I can live with it, so can everyone else.
A couple of years ago at a "Knock out Parkinson's" boxing class I learned about the Parkinson's Wellness Recovery (PWR) program and joined a group of the most dedicated and supportive physical therapists and staff you could ever imagine. PWR is actually Neurofit Networks, Inc., a non-profit created by Becky Farley, Ph.D. It is dedicated to researching how exercise and physical therapy affect Parkinson's patients.
Besides the physical exercise classes and cutting edge research, PWR provides one on one physical therapy for anyone with Parkinson's. Their reach and influence is international.
I attend the High Intensity Interval Training (HIIT) sessions 3 days a week with the most incredible Parkinson's athletes you can ever imagine. They work hard, do not complain about their situation and totally support one another. I am overjoyed knowing these fine people who are examples of my favorite thing: keeping a PMA (positive mental attitude).
We all believe that "motion is lotion."
PWR has the Bowden Challenge, named after a member who exemplified the PMA mantra. The idea is to do something outside your comfort zone. I immediately knew what that would be: run a 5K (3.1 miles). I hate running. I mean seriously at 5'2'' tall I have to take a thousand more steps to cover the same ground as others! But I completed my first 5K with the support of my PT at PWR. Then I ran another one, and another one (7 so far). And now it is a "thing." I run not just for myself, but also for those with Parkinson's, who cannot. That motivates me when the run is hard. So far I have broken 50 minutes; not fast, but I'm getting it done (and I get really cool t-shirts!).
Through happenstance, I was asked to be on the PWR Board of Directors, on which I currently serve with another wonderfully dedicated group of professionals who want to help the Parkinson's Community.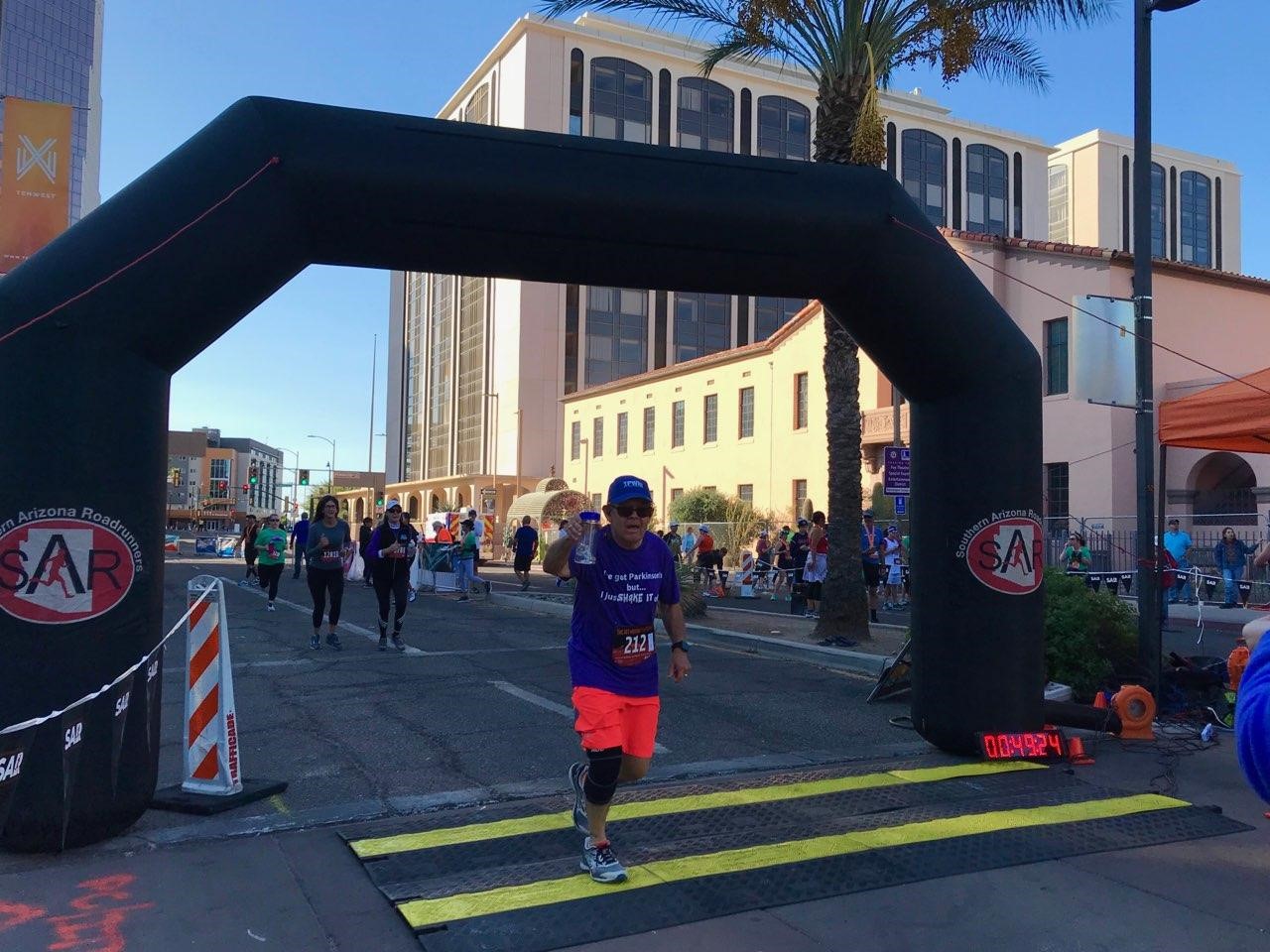 Four months ago I was walking at one of my favorite golf courses with my regular golf buddies. And on the 8th hole, my legs stopped working. I came to a dead halt and I was 150 yards behind everyone else. I shuffled on with each step not longer than 6 inches. I was very upset. I couldn't seem to move and my hand and eye coordination went to hell. I rented a cart for the back nine. On number 10, I parked the ball so far right off the course, search and rescue couldn't find it. I truly felt that my golf days were over. Barely holding it together, I was done for the day. I returned the cart, gathered my clubs and push cart and headed to the parking lot. On the way to the car, I had an incredible emotional meltdown. All the way home I had tears in my eyes. I was never going to play golf again, or so I thought. But I decided to live my mantra: "keep a positive mental attitude" and so I'm back on the course. I haven't tried walking a course yet, and I'm not giving up my day job for the Champions' Tour, but I'm out there and having fun, supported by my buddies.
Having Parkinson's does have an upside. I have met a group of incredibly supportive people. And when I watch television, our dog Angel lays next to me and wants to be petted. So I just put my shaking left hand on her, and she's happy. Cool! Finally, unexplained by my neurologist, my left hand shakes in rhythm to any music playing. In fact, it is so exact, that if my right hand would follow, I could be a drummer for Queen or Manheim Steamroller!
So that's my journey so far. I enjoy working full time and setting an example of what is possible. Who knows what the future brings? I don't dwell on what I can't control. And if someone asks me if I have Parkinson's I tell them yes, but I JUST SHAKE IT OFF!
©tcope2020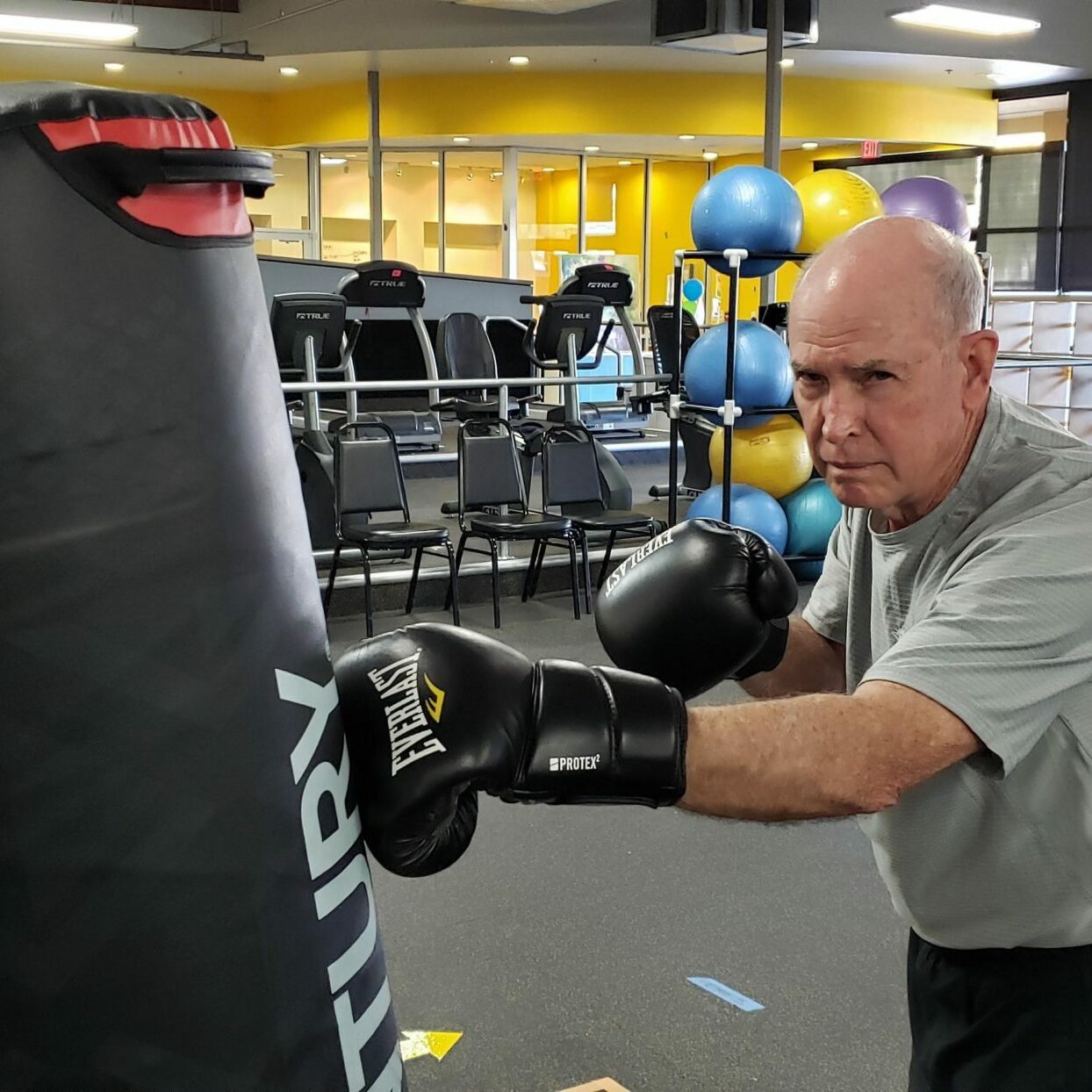 My journey with Parkinson's began when I was diagnosed in March of 2012. Two weeks after receiving the diagnosis I saw an article in the Arizona Daily Star about the Parkinson's Wellness Recovery Gym ( the PWR Gym) that featured exercise specifically designed to slow the progress of the disease. I told my wife that the gym looked like just what I needed. Indeed it was and is.
For eight and a half years I have participated in the group classes and one on one therapy sessions that the gym provides. As for me, my progress has been delayed to the extent that I am able to do most everything I was able to do prior to being diagnosed.  Although I do realize that this disease progresses differently for each person and that I may be fortunate to be one of the individuals with a slow rate of progression.
There is no question in my mind that the exercise regimen provided by the gym has been a major factor in my being able to maintain my level of functioning in terms of both motor and nonmotor symptoms.
In addition to impacting the progress of the disease, the gym also provides a support group of people with Parkinson's. We share information about doctors, new and existing treatments, medications, and just about anything we need to know about Parkinson's. As you can tell, I feel truly blessed to have this gym in my Tucson hometown.
Our most pressing issue over the past few years has been having enough space to accommodate the needs of our clientele. At one point we had ninety people on a waiting list to join the gym. Now, thanks to our move to a larger facility along with our newly designed virtual opportunities, we are able to accommodate patients not only in Tucson, but also nationally and internationally.
However, the move to a new facility accompanied by the Covid-19 pandemic has created a significant financial need for the gym. Thus, we are appealing to gym participants, their friends and families, caretakers, local community support groups, businesses, etc. to consider a donation to the PWR Gym. If you are an Arizona resident, you can donate up to $400.00 as an individual or $800.00 as a couple and receive a credit of equal value on your state income taxes.
I encourage you to join in this effort to provide a sound base of support for the PWR Gym, and the many people who are part of our growing Parkinson's community.
Thank You for your consideration.
John Ritchie
Person with Parkinson's and PWR! Board Member
Interested in our online platform to support those with Parkinson's? 
Guided Plans | Video Library | Live Zoom Classes | Resources for People with Parkinson's | and more...