WE CAN HELP YOU LIVE YOUR BEST LIFE WITH PARKINSON'S
Join us for the PWR! Virtual Experience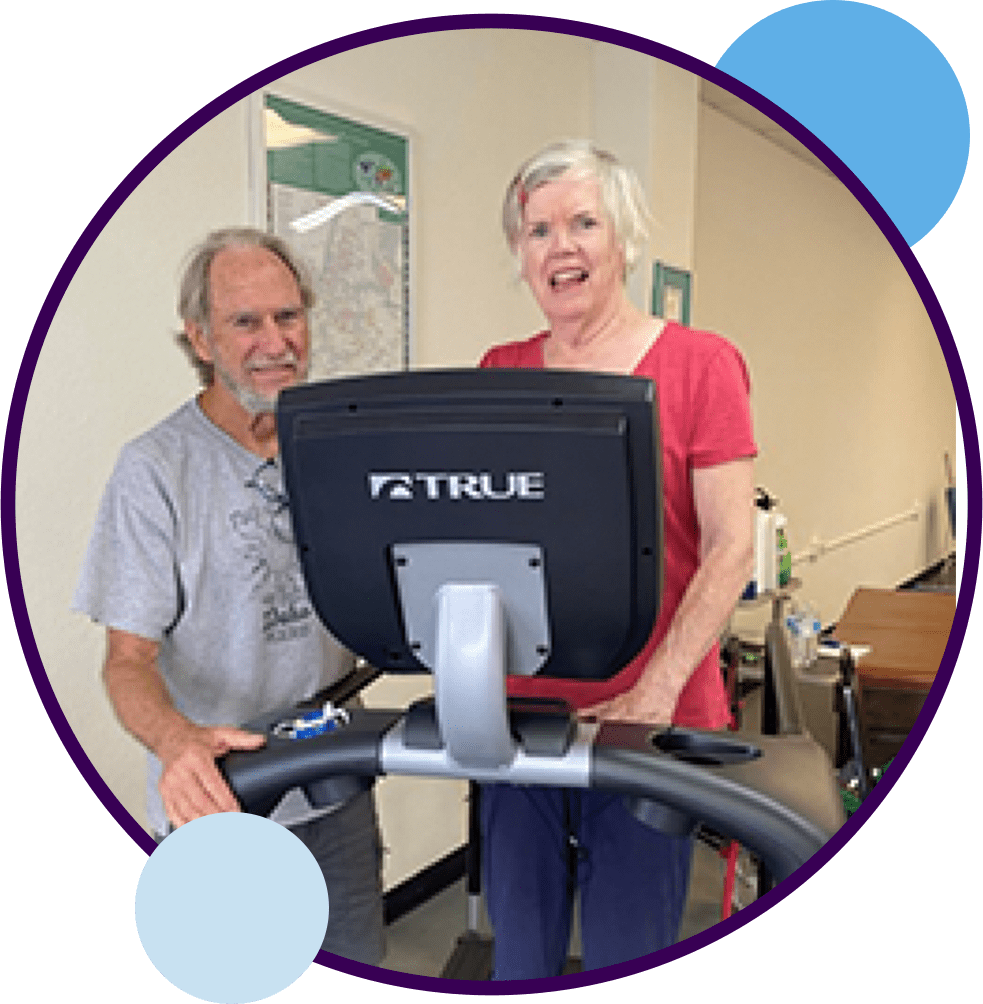 Parkinson's is different for everyone, but we all know that symptoms affect each of us deeply. The slow down in life.
The shuffling walk. The hunched walk. The hands. The freezing. What if you could combat some of these symptoms and have a more active life?
What if we could help you live your life ON YOUR OWN TERMS?
For over a decade we've worked exclusively with people with Parkinson's and seen first hand what a huge difference our program can make in people's lives.PWR! Moves Virtual Experience is designed specifically to help YOU reduce your Parkinson's symptoms with the proactive and positive power of exercise through our PWR! Virtual Experience Guided Programs.
Our Guided Programs Can Help You:
IMPROVE YOUR BALANCE & FLEXIBILITY IMPROVE YOUR STRENGTH & POSTURE ...AND IMPROVE YOUR LIFE!
Like Thom, Who's signing up for another 5K! GO THOM!
Don't just take our word for it! Hear from some of the people we've helped regain their lives through PWR's Virtual Experience: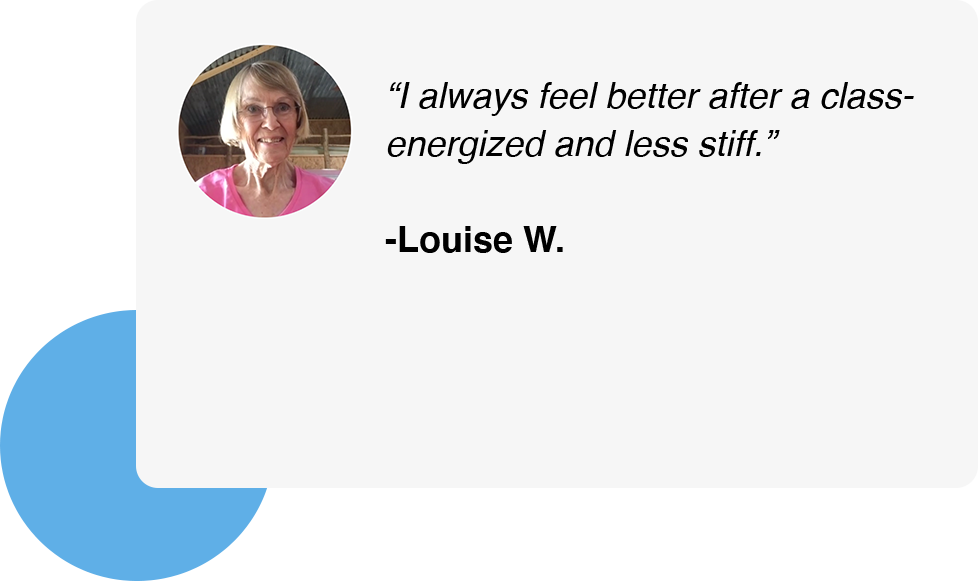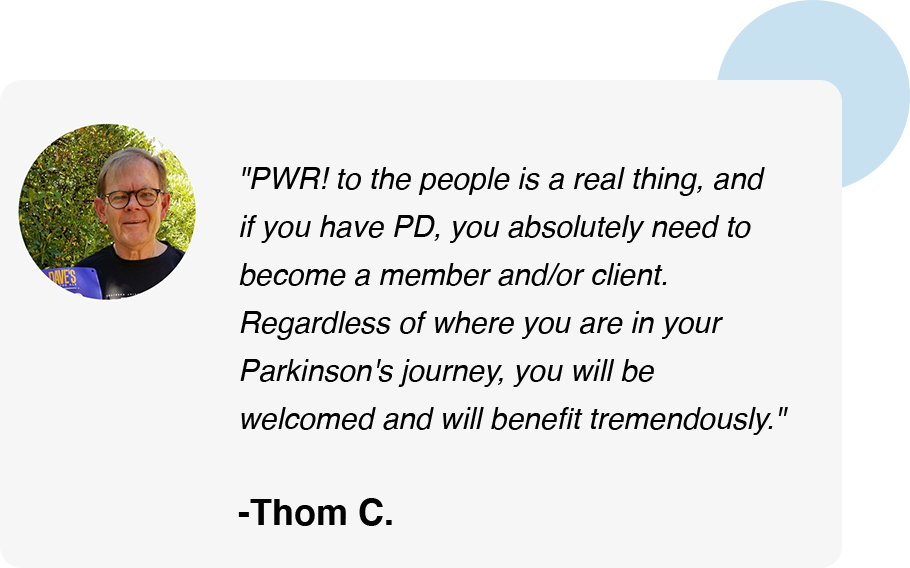 Is the PWR! Virtual Experience right for you? We can help you find out!
Dr. Becky Farley explains why you need the multi-level classes in a Parkinson's program and an assessment which is provided in the PWR! Virtual Experience. We want you to be successful!
At PWR!, we know that exercise is important for managing PD symptoms, but for it to work properly, you need the right exercise, at the right time, with the right instructors.
And now we can bring that perfected model right to you in your home with the PWR! Virtual Experience. You don't have to drive anywhere to take advantage of our expertise and knowledge.
We're available to help you personalize your exercise and help you get the most out of your fitness program—use our self-assessments to pick the right intensity and classes for you
We're the home and creators of

PWR!Moves are Parkinson's-specific exercises that help maintain and restore skills that have deteriorated and can interfere with everyday movements.
The PWR!Moves curriculum offers a flexible and function-focused exercise approach that targets multiple PD symptoms and is adaptable for all levels of disease severity. We have trained thousands of physical, occupational, and exercise therapists in the PWR!Moves curriculum across the US and world.
Now we're bringing the PWR!Moves directly to you.
You can refocus your energy on living your life to the fullest with the PWR! Virtual Experience. Get started today!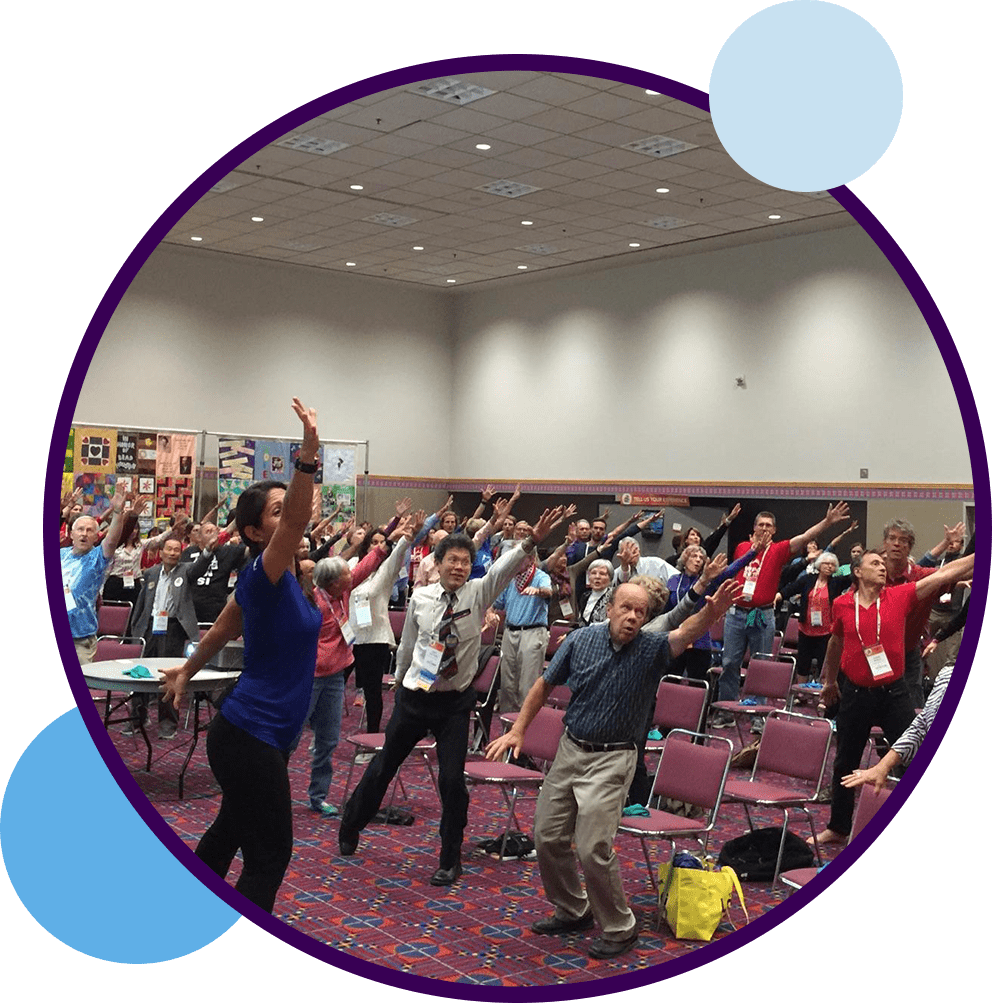 What to look forward to with the PWR! Virtual Experience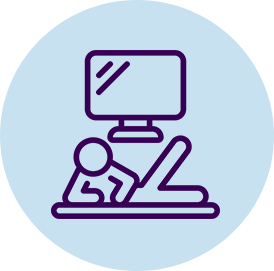 Customized, On-demand Workouts
Our wide variety of pre-recorded classes, along with advice from our expert instructors, allows you to create the best workout for you.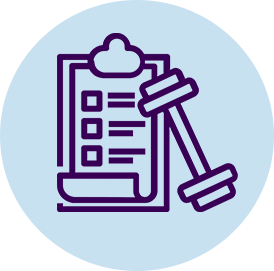 Our guided exercise plans offer you a roadmap to follow while exercising. Our experts designed them for people with Parkinson's so you'll always know what's next.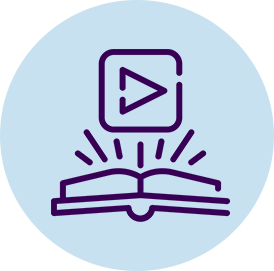 Our Video Library allows you to browse by topic to find exactly the video you're looking for.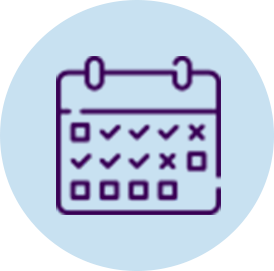 Exercise that fits your schedule- we've got hours and hours of pre-recorded exercise classes that are 30-45 minutes long.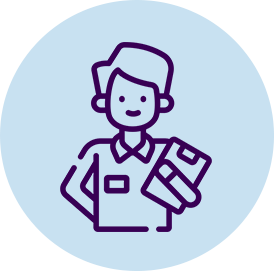 We have a staff of 15+ PD exercise specialists with over 100 years' combined experience working specifically with people with Parkinson's.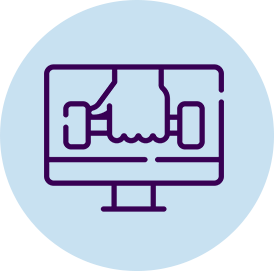 LIVE CLASSES
THAT FIT YOU
Hour-long live classes offered at high, low, and moderate intensities--we have classes you'll thrive in that fit your own fitness and functional levels.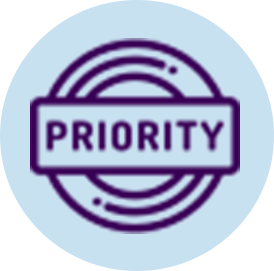 Gold and Platinum Memberships include live classes and priority access to webinars, "Ask a Therapist" Q&As, and other expert content.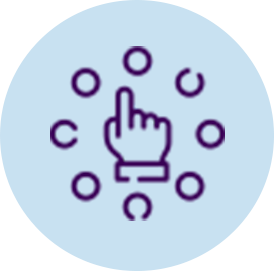 We offer a wide range of exercise videos and classes made with you in mind, by people who exclusively train people with PD. Choose from PWR!Moves, Circuit, Boxing, Cardio, Yoga, Tai Chi, Pilates, Dance (and more!)
STILL NOT SURE? Read these amazing stories from some of our long-time members: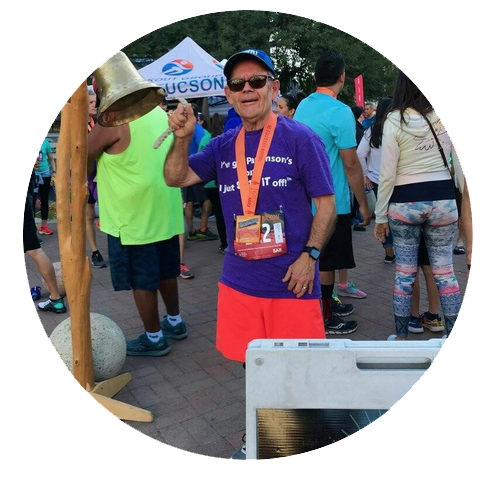 AND THEN MY LEG STOPPED WORKING
"I was walking along just fine keeping up with no problem and then my legs stopped working my shuffle was so good it would have made the penguin proud actually come to a dead stop"
Thom Cope, Board Member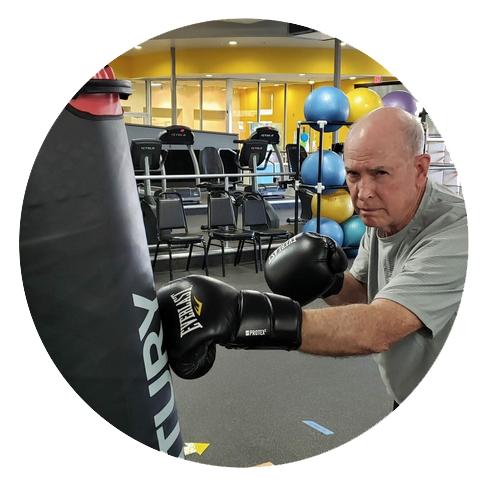 I am able to do most everything
"There is no question in my mind that the exercise regimen provided by the gym has been a major factor in my big in able to maintain my level of functioning in terms of both mobile and non mobile symptoms"
John Ritchie, Board Member
ARE YOU READY to reclaim your life and make the PWR! Virtual Experience part of your healing journey? Simply choose from our plans below: