Join us for a PWR!Moves Challenge!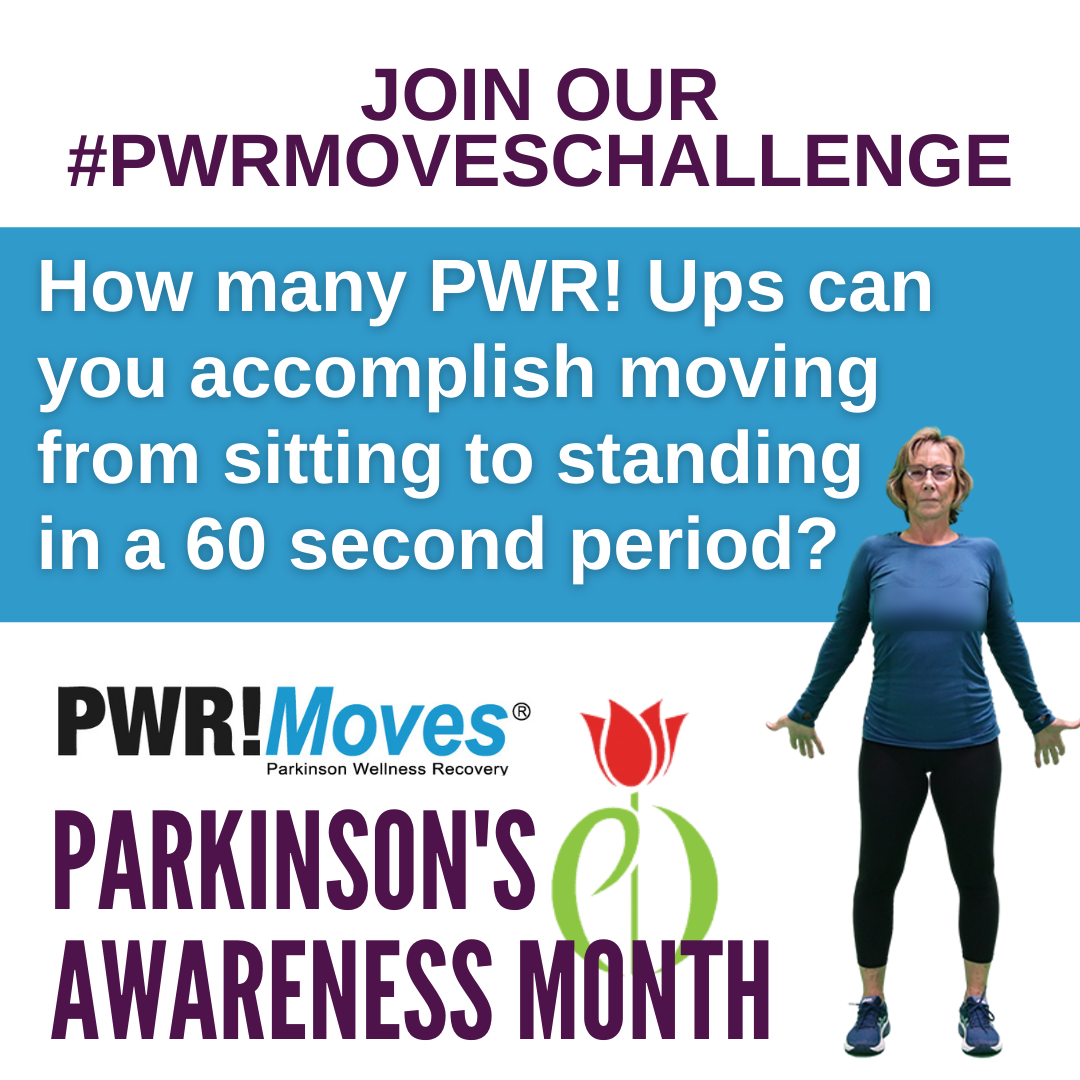 Join us PWR!Moves enthusiasts!
April is Parkinson Awareness Month, and we want to invite you to participate in a challenge. We want to see how you (or your clients, or your friends, or your family) PWR! Up.
Count for us, how many PWR! Ups can you accomplish moving from sitting to standing in a 60 second period? Count how many you can do in a 60 second period (with great form, no cheating!) from the beginning of the month to the end of the month.
We want to see those videos of you challenging yourself, your clients, and your family members to PWR! Up for Parkinson Awareness Month with the PWR! Up Challenge. Who can do the most??
Make sure you share on social media with the hashtag #PWRMovesChallenge.
We can't wait to see how many PWR! Ups YOU can do!!
Pick your Intensity and Join us!
Amy, Cat and Jenn give us different versions of the PWR!Moves Challenge so everyone can participate! You, your friends, your family... We are ready to PWR! Up with you for the month of April!
Low Intensity PWR! Up Challenge
High Intensity PWR! Up Challenge
Tag us in your posts on social media and we are ready to celebrate your successes in PWR! Ups with you!
If you are high intensity or low intensity you can still join us in our PWR!Moves Challenge. We know the importance of intensity. We have a an 11 question free to use self-assessment to give you an idea of what would work best for you.
Dr. Farley discusses the uniqueness of the PWR!Moves and how it applies to the motor skills that underlie your everyday life skills and how research shows these skills deteriorate with Parkinson's.  As she shows us the basic PWR!Moves, you can see how they can help you to continue to lead a full life in everything you do with Parkinson's.